"This just means the world to me, that all these people came out here to honor us," said Earl Nunn, an 88-year-old Korean War veteran, as a parade of motorcycles rumbled in the distance. "I am so thankful for what Bostwick has done here and all the veterans who have sacrificed for the liberties we have today."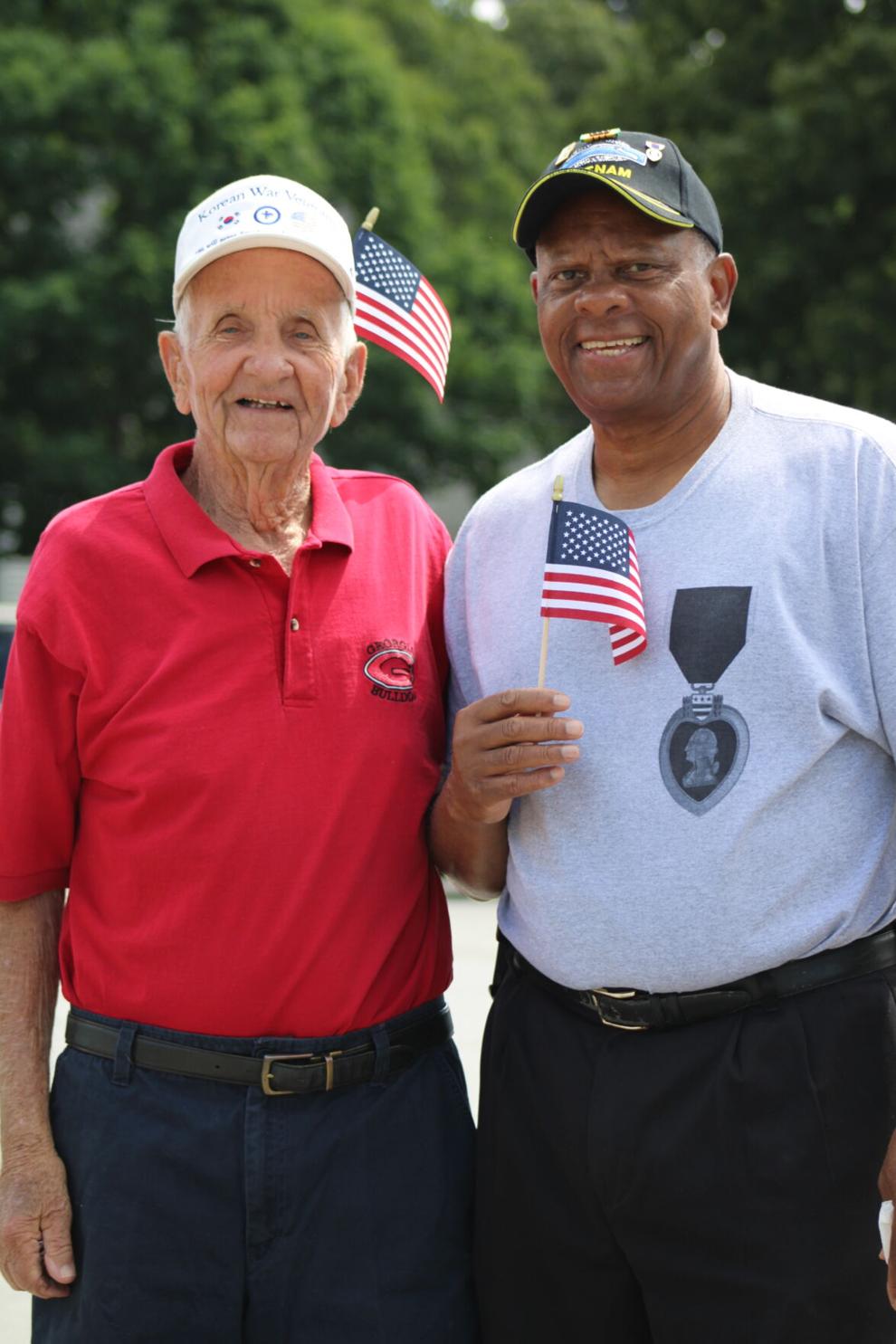 Nunn was just one of dozens of veterans who turned out to Bostwick's first-ever Ride for America Memorial Day celebration and special ceremony to dedicate a Veterans Memorial at the city park.
The special Memorial Day service in Bostwick drew more than 1,300 motorcycles driven by patriotic riders through Morgan County in an astounding 12-mile long procession.
Ride for America circled Bostwick's Veteran Memorial Park before heading to Rutledge and on back toward Social Circle. Hundreds of people gathered in Bostwick's new Veterans Memorial Park to wave flags at passing riders before holding a special ceremony dedicating a new monument designed to honor the service and sacrifice of veterans.
Nash Allwine, the honor guard commander for Post 137 of the American Legion, presided over Monday's ceremony, choking up over the new memorial and what it means to veterans, their families, and the community as whole.
"We hope this memorial will be a place for people to visit and take pictures...but also for veterans to come sit alone and ponder thoughts they can never share with anyone else," said an emotional Allwine. "We are just honored to be able to pay tribute to those who have sacrificed the ultimate price and also to pay tribute to Bostwick for the fantastic job they have done with this. We just want to say thank you to the city of Bostwick and all of our veterans."
Keith Howard, member of the American Legion and chairman of the Bostwick Veteran Memorial Committee, proudly unveiled the new memorial, which includes a new flagpole and seven engraved monuments to honor all the branches of the armed services and all Prisoners of War (POWs) and veterans Missing in Action (MIAs). The seven tombstone-like monuments stand upon bricks, including 75 bricks engraved with the names and service information of local veterans.
"We just wanted to do something that would honor all our veterans, all those who have served and all of those still serving," said Howard.
County Commissioner Donald Harris, who earned a Purple Heart after being wounded in the Vietnam War, attended the Memorial Day Ceremony.
"This is my first time out here to see this and it's beautiful," said Harris.
Veterans stood in salute as community members in attendance sang with their hands over their hearts and waved American flags.
Allwine closed the ceremony with the wish that Bostwick's new Veteran Memorial Park would serve as a sacred place for veterans, their families to gather and for future generations to "learn the lessons of freedom" for decades to come.